Winchester SUPX 270 WIN 150 GRAIN POWER POINT, 20 ROUND BOX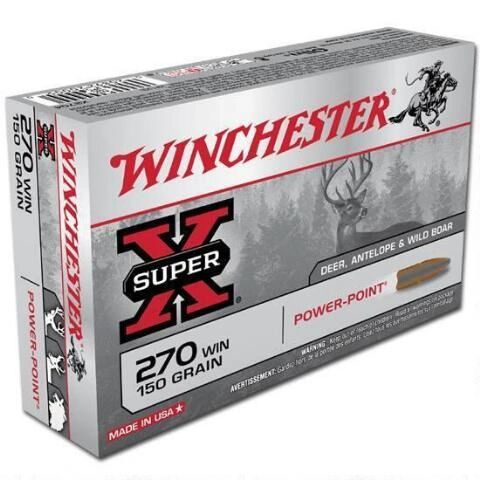 Winchester SUPX 270 WIN 150 GRAIN POWER POINT, 20 ROUND BOX
This specific Winchester Super-X 270 Winchester ammo was developed for large sized game hunting such as deer, black bear, and wild boar. The Super-X 270 Winchester by Winchester has a muzzle velocity of 2850 feet per second and muzzle energy of 2705 foot pounds. The Super-X 270 Winchester ammo bullet provides penetration and quick energy release with practically no weight loss or bullet fragmentation. This 270 Winchester by Winchester ammo is reloadable, features brass cases and Boxer primers.

· You must be 18 or older to purchase Rifle or Shotgun Ammunition and 21 or older to purchase Handgun Ammunition. In ordering this product, you certify that you are of legal age and satisfy your jurisdiction's legal requirements to purchase this product.
· For safety reasons, we do not accept returns on ammunition. Always make sure you use the correct ammunition for your specific firearm.
· The sale or shipment of this product to residents of certain jurisdictions is prohibited. Check your local laws before ordering this product. Check your local laws for any other regulations.