Tul Ammo .223 55 GRAIN FMJ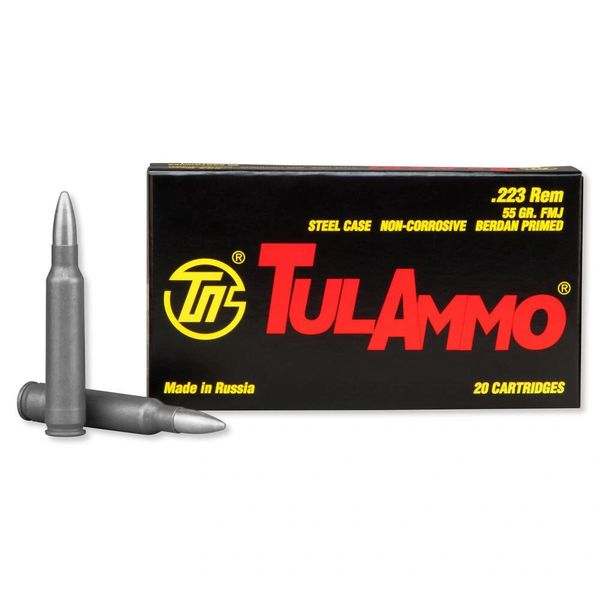 Tul Ammo .223 55 GRAIN FMJ
Originally founded as Tula Cartridge Works in 1880, TULAMMO is the leading Russian ammunition factory and currently produces ammunition for North, Central and South America, as well as Australia and several countries in the Middle East. Used for shooting in bolt action and semi-automatic rifles and carbines, this ammunition has been tested to perform in extreme weather conditions. TA223550 is the perfect choice for competition and training round, 223 Remington ammo from Tula has been tested in numerous weather conditions and climates to guarantee the highest success rate no matter what Mother Nature can throw at a marksmen. Constantly using the most up-to-date scientific and investigation information, Tula is able to design a close construction of expansion and manufacturing and active commercial policy - all of which make for a "stable, perspective and dynamic company". 223 Remington ammo by Tula Ammo is new production, non-corrosive, non-reloadable and features Polymer Coated Steel casing and Berdan primers.

· You must be 18 or older to purchase Rifle or Shotgun Ammunition and 21 or older to purchase Handgun Ammunition. In ordering this product, you certify that you are of legal age and satisfy your jurisdiction's legal requirements to purchase this product.
· For safety reasons, we do not accept returns on ammunition. Always make sure you use the correct ammunition for your specific firearm.
· The sale or shipment of this product to residents of certain jurisdictions is prohibited. Check your local laws before ordering this product. Check your local laws for any other regulations.