Grill Your Ass Off - Ma Deuce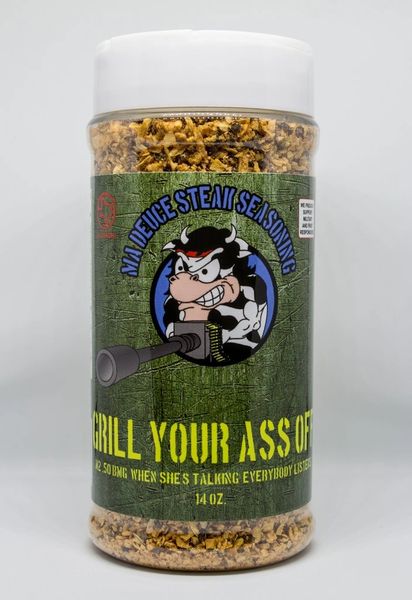 Grill Your Ass Off - Ma Deuce
MA DEUCE STEAK SEASONING
Ma Deuce Steak Seasoning Is formulated with a pinch of gunpowder for each .50 cal round sent downrange. This seasoning features a larger granulated base to give you the bold flavor you desire on your steak. With this ultimate steak seasoning, you can go ahead and bitch slap the one who grabs steak sauce.
All of our seasonings have NO MSG.
Ma Deuce - Ingredients: Salt, Spices, Paprika, Onion, Garlic, Orange & Lemon Peel , Disodium-Inosinate, Disodium Guanylate, Worcestershire Powder (Corn Syrup Solids, Salt, Caramel Color, Garlic, Sugar, Spices, Soy Solids (Natural Fermented Wheat & Soybeans, Salt, Maltodextrin, Caramel Color, Palm Oil, Tamarind, Natural Flavors & Sulfiting Agents), Papain (Natural Tenderizer Derived from Papaya), Natural Flavor, Butter Flavor (Maltodextrin, Modified Butter Oil & Dehydrated Butter, Salt, Guar Gum, Baking Soda, Annatto & Turmeric Vegetable Color & Milk).